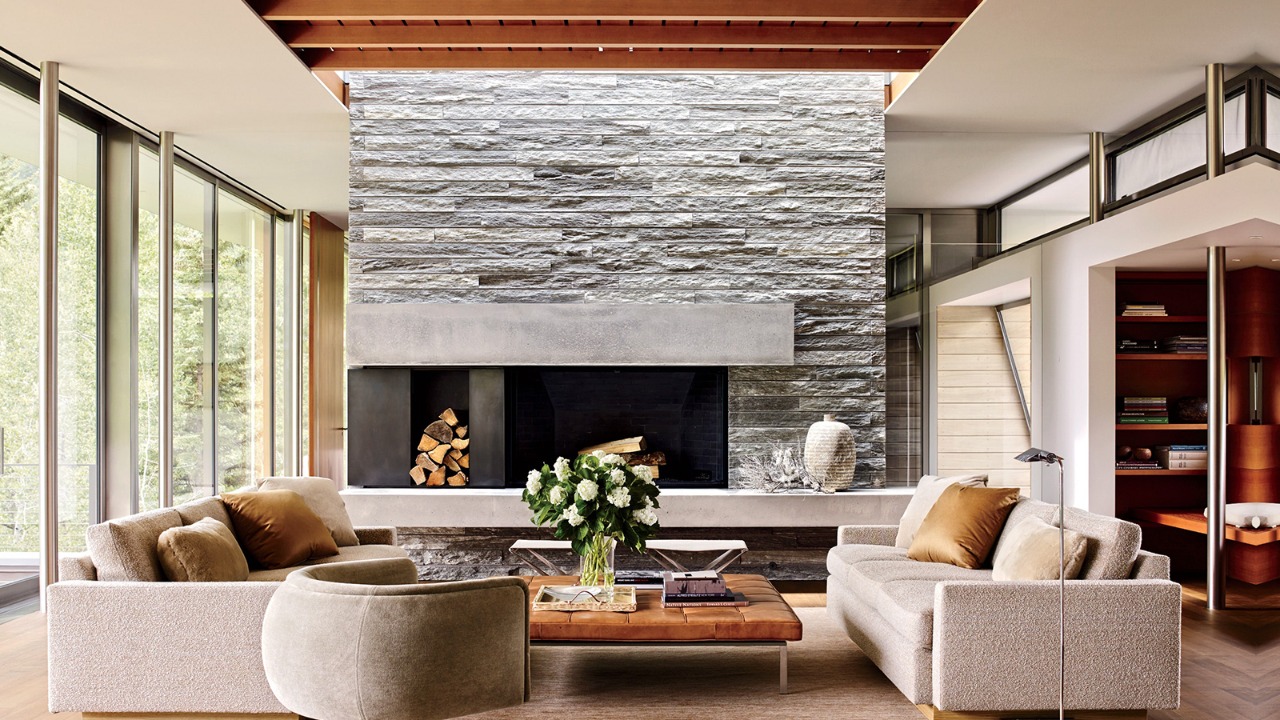 Amazing Contemporary Interior Design Ideas to check
The term "contemporary style" refers to a variety of fashion trends that emerged in the second half of the twentieth century. Rather than the harsh lines typical in modern design, the pieces have softened and rounded lines. The foundations of line, shape, and form are emphasized in interiors, which use neutral components and vivid color. Choose contemporary home furniture that makes a statement while remaining simple, with smooth, clean, geometric forms and straight lines. Solid colors and finishes, natural materials, and unadorned surfaces are all good choices.   
Contemporary Interior Design: Sleek surfaces, crisp furnishings, and cutting-edge art are all hallmarks of contemporary interior design. While the design had a reputation for being cold and impersonal in the past, more and more modern rooms are combining warmth and minimalism to create a fresh and striking impression.   
10 Amazing Ideas for Contemporary Interior Design  
Color Arrangements
Line and Space
Furniture in a Contemporary Style
Flooring
Art and Lighting Considerations
Additional Design Elements
Contemporary Interior Design Living Room
Contemporary Kitchen and Dining Area
Luxury Contemporary Interior Design
Modern Contemporary Interior Design
A contemporary decorating style is defined by its elegance, simplicity, brilliant use of texture, and clean lines. Most interiors focus on the space rather than objects.
In contemporary style interiors, neutrals, black, and white are the primary hues. In a contemporary style room, black is frequently utilized to ground and define it. Bright and bold hues that play against neutrals are frequently used to punch up the palette. You'll have a great backdrop for bold-colored items with walls painted in a basic neutral tint. The trimmings should be neutral if the walls and windows are pastel-colored. Neutrals should be used everywhere else if the wall is a bright, striking color.
The line is the most evident and distinguishing feature of contemporary interior design. Strong visible lines can be found in any contemporary-style home, whether they be straight vertical or horizontal lines or curved shapes. Architectural elements, vivid color blocks, high ceilings, naked windows, and geometric shapes in wall art and sculpture are all examples of the line.
Furniture in a Contemporary Style
Furniture should be bold yet plain and uncomplicated, with no curves or decorations. Geometric shapes that are smooth and tidy are required. Natural fibers such as wool, cotton, linen, silk, and jute are used to provide textural appeal to upholstered furniture in black, white, or other neutral tones. Pillows with simple geometric designs bring color and texture to space.
Wood, tile, or vinyl floors should be bare and smooth in a contemporary home. Choose commercial grades if you need to utilize carpet for sound control or warmth. Plain or geometric-patterned area rugs add color and texture.
Art and Lighting Considerations

Track and recessed lighting can help to illuminate a wall. Consider including cove lighting or indirect lighting in both house renovations and new construction. The light fixtures should have color and metallic components. For artwork, frames in high-gloss or matte black, natural wood, or metal finishes are ideal. If you must combine many pieces, hang them near together to give the impression of one enormous piece. Collections or too many pieces should be avoided in contemporary-style homes. Open space is often just as significant as the things you use in contemporary homes.
Additional Design Elements
Colorful, busy designs should be avoided since they detract from the clean lines that are so important in a contemporary home. Two-tone prints are a good choice. Consider a zebra-print pillow on a black leather chair, a giant leopard-print pillow on a simple floor, or a strong, heavily textured striped rug as an anchor for solid-colored, streamlined furniture. Also, make sure your dinnerware is up to date. There are many geometric forms, bright hues, and unique styles to choose from. Silverware, napkins, placemats, and centerpieces can all be used to add texture.
Contemporary interior design living room
In the living room, think about employing versatile furniture with glass or wood textures. As much as feasible, use pastel, monochromatic colors. By embracing the Japanese habit of using jute mats, you can utilize some neutral hues for area rugs. Install storage spaces in strategic areas throughout a modern living room, as well as shoe racks and overhead cubbies in the hallway to conceal clutter.
Contemporary Kitchen and Dining Area
Finally, a modern kitchen can double as a dining room, which is very useful in New York's small apartments. Consider multifunctional room ideas whether or not you have a separate area for it. Install some wooden and glass cabinetry in the kitchen, as well as a breakfront in the dining room for your china. You can also use roller-style shelving and drawers for a more modern look.
Luxury contemporary interior design
Apart from metallic and jewel tones, natural materials such as stone, wood, granite, marble, and even concrete are used extensively in modern luxury interiors. The use of stone and natural components creates a bolder, more elegant appearance. By selecting on-trend materials and room designs while preserving appealing softness and usefulness, luxury interior designers combine style with enjoyment and ease for every element of daily life. In a luxury house, you can say goodbye to uncomfortable chairs, scratchy linens, rough flooring, and cramped areas.
Modern Contemporary Interior Design
Simplicity, subtle sophistication, careful use of texture, and clean lines are all characteristics of a contemporary design style. Space, rather than goods, is often the focus of the interior design. Contemporary style refers to items that are up to date with current fashion trends. That's all there is to it. You can rapidly transform any living area to reflect contemporary design ideas with these simple tips and tactics.